Ordering
When a visitor to the gallery finds that perfect object and it's too big for the suitcase, La Tierra Mineral Gallery often ships items purchased In Taos. For those visiting the website, this service is also available. Just call the gallery during business hours, 10:00 am to 6:00 pm daily (Mountain Time), 575-758-0101, or email us with the specific object that interests you.
Please know that the website displays only a small part of the vast and ever-changing inventory available in Taos. We currently do not have online ordering capabilities but if time allows, the staff person on duty when you call will describe other products that fit your criteria and then we can send photos.
We ship by US Postal Service Priority Mail, if possible. For oversized objects, we use Pueblo Packing, a professional crating and shipping service here in Taos. We will call you with the shipping and handling charges before shipping upon request.
La Tierra Mineral Gallery accepts MasterCard, Visa, Discover, and American Express credit cards. In-New Mexico transactions will have 8.5% gross receipts tax added. Shipping is always billed to you at the gallery's cost.
Favorite Places in Taos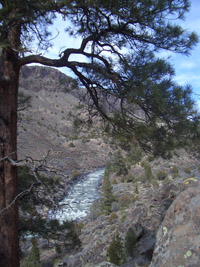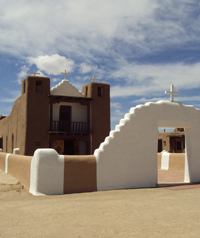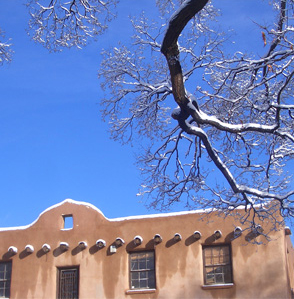 Rio Grande at Wild Rivers Recreation Area; San Geronimo Church at Taos Pueblo; the Old Courthouse on Taos Plaza. Photos by Janet Burns.