Where Art and Nature Unite
The gallery's mission is to create a beautiful space in which people of all ages can come to appreciate the incredible beauty that is the mineral kingdom, and to provide a fun, relaxed shopping experience. To that end, La Tierra Mineral Gallery carries items in all price ranges to accommodate both collectors and those who are just learning about minerals and fossils.
La Tierra Gallery displays thousands of mineral specimens from around the world including many found in New Mexico. The specimens are available in natural, polished, and carved forms. The carved forms include onyx house wares such as plates, bowls, mortar and pestles, goblets, wine chillers and various size lamps, candleholders made from many different minerals, spheres, hearts, animal carvings including collectable Zuni fetishes.
For those interested in the metaphysical properties of the stones, we have massage wands, rune sets, pendulums, crystals, and books (both reference & metaphysical).
The fossil gallery features the embedded remains of creatures that lived millions of years ago, including bugs that were caught in amber (tree sap from long ago). A large assortment of petrified wood pieces are available in various sizes, some made into bookends and other household items. An ever-changing assortment of beautiful jewelry from New Mexico Pueblo artists, Taos artists, and a select few from the southwest are also featured.
There are items that are "out of this world," meteorites that came to Earth millions of years ago, and tektites which were formed when they impacted the earth, including the beautiful green Moldavite.
La Tierra has been in business in the John Dunn Shops for more than 22 years. Holly Benson, the third owner, bought the gallery in 1996. In April 2010 the gallery moved from its tiny 400 sq ft location to the present spacious 2600 sq ft space just around the corner.
Get a preview on this website of what's in store for you when you visit La Tierra Mineral Gallery in Taos, New Mexico. The knowledgeable staff welcomes visitors daily, 10:00 am to 6:00 pm (Mountain Time), with occasional late night special events.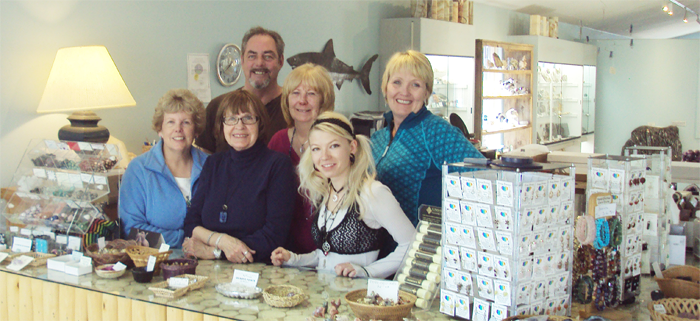 Meet the team

Holly Benson
Owner
Holly is a geologist by profession. She divides her time between Taos, Houston, Texas, and world-wide excursions for business, and to purchase products for La Tierra.